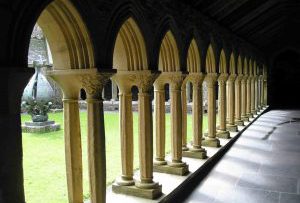 Conscious that many people appreciate having time to plan their annual retreat, we would like to draw your attention to Epiphany Group members who regularly offer individually guided Ignatian retreats across the country. Most venues have their own websites with information on what each offers by way of accommodation, programmed retreats and/or on low income.
Epiphany Group Bursary Form (PDF)
This retreat is held in silence and will be led by members of the Ignatian Spirituality Centre in Glasgow in collaboration with the team at Minsteracres.
Thursday 3 (6.30pm) – Thursday 10 September (10am)
Cost: £520
The Team at Minsteracres have been busy getting ready to bring back to life and re-imagine experiences that we have all craved during these past few months. We are preparing to welcome you by providing a revised retreat programme, meeting spaces, comfortable accommodation and acres of land for you to enjoy space away from the hustle and bustle of daily life in the peace, quiet and beauty of Minsteracres. The team at Minsteracres have made some important changes to the infrastructure to ensure a seamless visit with us. The focus being the safety of all our guests, staff and volunteers.
In conjunction with the latest government guidelines we have completed a risk assessment that will ensure the safety and wellbeing of all visitors with as little disruption as possible.
If you would like book a place on this IGR retreat, Margo will be pleased to assist you with your booking.
Any general enquiries may be sent to info@minsteracres.org and a member of our resident community will respond in due course.
For more information about Minsteracres and our full programme visit website or call us on 01434 673248.
For more information about 2016 retreats in Galloway, please contact Rachel Inglis, T: 01557 331548. E: info@aigfois.co.uk
For further information about 2016 retreats held by Sacred Spaces, visit our website: sacredspacesscotland.webs.com
Mini–retreats at Coldingham
Short, midweek, retreat breaks are available at a comfortable cottage in the lovely village of Coldingham in the Scottish Borders.
This cottage – suitable for self-catering mini retreats – is owned by an EG trained spiritual director / prayer guide. It is normally available from Tuesday evenings to Thursday evenings. In a quiet location, it has 2 en-suite bedrooms, a kitchen/dining room, a sitting room and a garden room which looks on to a private terraced garden with a back gate and path leading to the beach at Coldingham Bay.
Cost:a donation of £30 to cover heating/lighting/laundry would be appreciated (and a willingness to strip beds and leave rooms clean and tidy).
For further enquiries and to book, please contact: Noreen Thompson on 01890 771795 or 07817 990298.
Blackruthven, Perthshire, welcomes those who seek individually guided Ignatian retreats as well as Ignatian Spiritual Direction. The resident team also offers a wide range of themed and programmed retreats throughout the year in this lovingly restored and natural environment.
Kilmuir, North Kessock, nr Inverness. Situated on the banks of the Moray Firth, this lovely small retreat house offers both programmed retreats and the option to book your own time, with individual guidance from experienced Ignatian directors.
Individually guided retreats, by members of the Epiphany Group, can be offered at Emmaus House in the centre of Edinburgh by arrangement.