North and East, Highlands &
Islands
(includes Aberdeen, Aberdeenshire, Moray, Inverness, Black Isle and Orkney)
North East Scotland's Retreat Experience
From Carole Phelan
Today we had planned to have one of our Reflective Days but of course things are not going to plan currently so we did what seemed to be appreciated last month and prepared some guided reflections for participants to do themselves at home.
We aimed to start at the time we would normally start with a stilling and the suggestion that everyone lit a candle. There seems to be something very special about praying at home alone whilst knowing others are doing the same at the same time in their homes.
This time we decided to end with the opportunity for anyone who wanted to join in a Zoom meeting. We are fortunate in having someone skilled in technology who was able to make this all go very smoothly. I was surprised how well it went. In fact, when two participants contacted me afterwards I was surprised they had travelled home so quickly until I remembered they hadn't actually been in my room!
I know more people participate in these guided meditations at home than would normally be able to come to our days. And it was lovely to have our Epiphany Group member in Orkney join us for the Zoom meeting.
We have one more day 'planned' at the end of May and no doubt that will also be a virtual meeting.
The Well – Kirkwall
'A quiet place in the noisy world'. We meet every 4-6 weeks for a time of prayer and contemplation. Over the winter we have followed the themes on St Magnus Pilgrimage Walk.
The group will reassume meeting online via Zoom again in September. More information following in due course.
For enquiries please contact pirjo.little@gmail.com
More on St Magnus Pilgrimage walk go to www.stmagnusway.com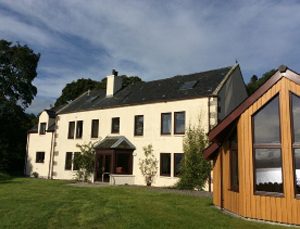 The Coach House Kilmuir Trust
The newly extended and refurbished Coach House, Nr Inverness.
There is a special a special offer from the Society of Retreat Conductors for those interested in spending time at the Coach House, Inverness-shire: go to
www.thesrc.org.uk
for information about grants.