North and East, Highlands & 
Islands
(includes Aberdeen, Aberdeenshire, Moray, Inverness, Black Isle and Orkney)
Enneagram Workshop
June 29th, 2019
Workshop from 10 a.m. till 4 p.m. with coffee at 9.30 p.m.
at Birse Kirk, Birse by Aboyne, AB34 5BY.
Facilitated by Rev Dr. Ken Webb
Often misunderstood as a personality typing method, the Enneagram is a sophisticated map designed to foster spiritual growth and personal transformation. Rather than putting people in boxes, as most personality typing tools do, the purpose of the Enneagram is to get people out of the box into which they have, unconsciously, put themselves. It is all about making the journey from Ego to Essence, from Shadow to True Self.
Participants will be given a brief history of the development of the Enneagram from its roots in the wisdom tradition of the Desert Fathers to the insights of modern psychology.  You will then be introduced to the basic triadic framework of the Enneagram (meaning the diagram of nine), and the basic dynamic that gives rise to the personality. Finally you will be given a taste of the journey from Ego to Essence of all nine types and of spiritual practices that facilitate that journey.
It will not be possible for participants to know with certainty what type they are from attending this event. And it is rarely the case that anyone is just one type. The purpose is to grow, not only into the fully awake manifestation of your own dominant type, but also to grow towards the strengths of all the other 8 types.
PLEASE REGISTER THROUGH CAROLE PHELAN
carole.phelan@talk21.com (07714091418)
Workshop from 10 a.m. till 4 p.m. with coffee at 9.30 p.m.
Please bring your own sandwich lunch.
£25 payable on the day.
For more information download: Enneagram Workshop (DOCX.)
The Well – Kirkwall
'A quiet place in the noisy world'. We meet  every 4-6 weeks for a time of prayer and contemplation. Over the winter we have followed the themes on St Magnus Pilgrimage Walk.
More on St Magnus Pilgrimage walk go to www.stmagnusway.com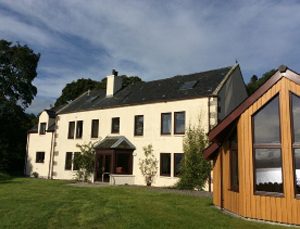 The Coach House Kilmuir Trust
The newly extended and refurbished Coach House, Nr Inverness.
There is a special a special offer from the Society of Retreat Conductors for those interested in spending time at the Coach House, Inverness-shire: go to
www.thesrc.org.uk
for information about grants.