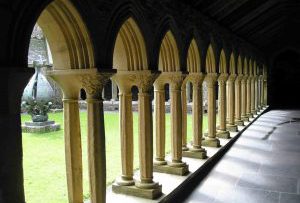 Conscious that many people appreciate having time to plan their annual retreat, we would like to draw your attention to Epiphany Group members who regularly offer individually guided Ignatian retreats across the country. Most venues have their own websites with information on what each offers by way of accommodation, programmed retreats and/or on low income.
Seasoned With Salt
12th – 14th November
Led by Sharon Laidlaw and Claire Starr.
We would like to invite you to join us at the Coach House for a week end of quiet reflection, themed around Advent, incorporating some silence, guided meditations, inputs and opportunities to share our journey with one another. Please contact the Coach House to book a place, or for more information contact Sharon Laidlaw: sharon.laidlaw@btinternet.com
Price: Coach House room rate (check the website) plus £30. Bursaries are available.
The Bield
is a resonant old Scottish word rich in meaning. It may describe a physical place of shelter and refuge, a pleasant environment of protection and rest. It can also express such activities as 'to nurture' and 'succour', 'to embolden' and 'encourage'. Each of these meanings suggests a facet of life at the
Bield at Blackruthven
to which you are warmly welcomed.
Rooted in Ignatian spiritual practices we offer a rich programme of events, quiet days, courses, and retreats, and have just launched an outline of our
programme for 2022.
You are welcome to arrange an individually guided retreat at any time – we offer a variety of patterns up to 6 days and also offer on-going Spiritual direction.
If you like a quiet place for rest and relaxation, for prayer, or retreat you'll find Blackruthven an inviting setting with extensive, varied, and beautiful grounds with many walks and much to offer in the creative spaces of the Steading, walled garden, swimming pool, art space and smallholding. Individuals, couples, families, or groups are welcome for day visits or longer stays.
Kilmuir, North Kessock, nr Inverness. Situated on the banks of the Moray Firth, this lovely small retreat house offers both programmed retreats and the option to book your own time, with individual guidance from experienced Ignatian directors.