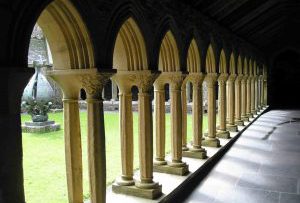 Conscious that many people appreciate having time to plan their annual retreat, we would like to draw your attention to Epiphany Group members who regularly offer individually guided Ignatian retreats across the country. Most venues have their own websites with information on what each offers by way of accommodation, programmed retreats and/or on low income.
The two organisation sometimes work together.
Any general enquiries may be sent to info@minsteracres.org and a member of our resident community will respond in due course.
For more information about Minsteracres and our full programme visit website or call us on 01434 673248.
Friday 28 – Sunday 30 May 2021 (4:00pm – 3:30pm)
St Beuno's

This is a retreat for those involved with the healing of this world; whether through working with those on the margins, restoring the environment, healing deep divisions in local community or working for peace, justice and caring for the common good in another way. We will prioritise those committed to, and currently engaged in this work. This might be through volunteering or paid work, part time or full time.
This experiential, contemplative retreat will offer a welcoming, safe, explorative and creative space in which to reflect and be refreshed.
We will use rest, silence, walking, art, poetry and writing to contemplatively and imaginatively explore questions such as Who am I? What matters to me? Who is my neighbour?
WHERE
WHEN
28th May 2021

to

30th May 2021
Standard Room:
£184.00
En-suite £220 Simple £150
For more information about 2016 retreats in Galloway, please contact Rachel Inglis, T: 01557 331548. E: info@aigfois.co.uk
Mini–retreats at Coldingham
Short, midweek, retreat breaks are available at a comfortable cottage in the lovely village of Coldingham in the Scottish Borders.
This cottage – suitable for self-catering mini retreats – is owned by an EG trained spiritual director / prayer guide. It is normally available from Tuesday evenings to Thursday evenings. In a quiet location, it has 2 en-suite bedrooms, a kitchen/dining room, a sitting room and a garden room which looks on to a private terraced garden with a back gate and path leading to the beach at Coldingham Bay.
Cost:a donation of £30 to cover heating/lighting/laundry would be appreciated (and a willingness to strip beds and leave rooms clean and tidy).
For further enquiries and to book, please contact: Noreen Thompson on 01890 771795 or 07817 990298.
Blackruthven, Perthshire, welcomes those who seek individually guided Ignatian retreats as well as Ignatian Spiritual Direction. The resident team also offers a wide range of themed and programmed retreats throughout the year in this lovingly restored and natural environment.
Kilmuir, North Kessock, nr Inverness. Situated on the banks of the Moray Firth, this lovely small retreat house offers both programmed retreats and the option to book your own time, with individual guidance from experienced Ignatian directors.