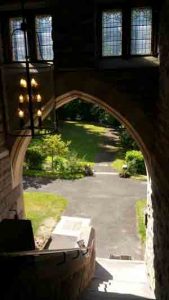 Sanctuary, wisdom, integrity, patience and perseverance, resilience, affirmation and hope.
These were some of the gifts participants received during a five day retreat at the beautiful St Mary's Monastery, a Redemptorist community, on the outskirts of Perth, Scotland.
The retreat, organised by the Church of Scotland, was advertised as a sanctuary following the spirituality of St Ignatius. Twenty ministers travelled from all over Scotland and even Lausanne, Switzerland to take part.
We met for one hour twice a day and explored different ways of praying following the dynamic of the spiritual exercises.
Relationships within the group developed and deepened over the five days, providing a unique opportunity for significant conversations plus a lot of laughter and fun!
The final session was the high point for me. Retreatants were invited to respond in a few words to their experience over the week and it was clear that the Spirit had been at work!
It was a huge privilege to lead the group and to be a small part in individual journeys.
Duncan Hughes, Epiphany Group